SUN PROTECTION – PART 4 UNDERSTANDING SUN PROTECTION TERMS AND MAKING THE BEST PICK
In today's world where information can be overwhelming, contradictory, and even confusing, it is very easy for us to be puzzled when it comes to making simple decisions. In the skincare world, it also doesn't help that there are a multitude of brands that make various claims, each better than the other. Picking the correct sunscreen can often be a tough one, especially if you are unaware of what the many terms and signs used on the label stand for.
In our last and much awaited instalment of the sun protection series, Dr. Rashmi Shetty simplifies this much cluttered area with her expertise, so that you can be a sun-protection ninja hereafter.
With that said, lets plunge right in!
In case you missed our previous articles, you can read them here:
– In Part 1 of our series, we went over the effects of the sun on our skin and health.
– In Part 2 of our series, we gave you the lowdown on how to truly and fully protect yourself from the harm of the sun – inside out.
– In Part 3 of our series, we put together an understanding of tanning, how to deal with post sun damage, and the correct ways in which you can restore your skin step by step.
A lot is said about sunscreens, the importance of solar protection, and the precautions you need to take to make sure you stay safe from all the harmful effects of sunshine. In this blog, we walk you through the internal and external routine you need, in order to bullet-proof yourself fully from any harm!
A QUICK RECAP OF HOW THE SUNLIGHT COMPONENTS DAMAGE OUR SKIN AND can CAUSE AGEING + SKIN CANCER
VISIBLE LIGHT: Not very damaging unless skin is sensitive and prone to pigmentation like melasma
UVA: penetrates deeper layers + causes DNA damage
UVB: affects the surface of the skin + causes burns, destruction of collagen, ETC.
UVC: eXTREMELY HARMFUL BUT IS BLOCKED BY THE OZONE LAYER FROM ENTERING THE EARTH
INFRARED LIGHT: CAUSES THE SENSATION OF HEAT + CAN TRIGGER INFLAMMATION
WHAT IS THE ROLE OF A SUN PROTECTANT?
The role of your sun protectant is essentially to prevent the following:
–  Harmful effects of the ultraviolet rays of the sun which include faster ageing and cell damage that encourages skin cancer
–  The free radical damage and polluting elements that cause oxidative stress
–  Skin tanning as a by-product of preventing the ultraviolet radiation from penetrating through your layers of skin
COMMON TERMS YOU WILL FIND ON THE PRODUCT LABEL
1) Broad Spectrum: This term means that the product offers you broad spectrum protection, which is to say that it defends you from both UVA rays as well as UVB rays. As mentioned in our first article, UVA rays penetrate deeper into the skin, while UVB rays affect the surface of the skin. Together, they both cause accelerated ageing as well as high risks of skin cancer. So make sure that you are always using a broad spectrum product to truly shield your skin.
2) SPF or Sun Protection Factor: SPF is the primary rating system used to gauge sun protection, more specifically from UVB rays. This term is used to indicate how long a person can withstand the sun before UVB rays begin to affect the skin and cause redness. For a better understanding, let's assume that you can stay in the sun without any sunscreen for about 20 minutes before you begin to turn red.
A product that is labelled as 'SPF 30' would mean that by wearing the product, your skin can tolerate the UVB exposure for 30 times longer than the normal time you would take to turn red. In theory, that may sound like a good amount of time, but realistically speaking, it is not so. These are all numbers that are determined in laboratory tests, and cannot be universally applicable for everyone, as each of us have different tolerance levels towards sun exposure. Note: Therefore, applying a generous layer of sunscreen, and re-application every 2-3 hours is necessary in order to achieve the actual sun protection factor claimed by the brand on the label of the product.
3) PA : This is the secondary rating system, and is used predominantly in the Asian countries. It is based on a PPD system or a 'persistent pigmentation darkening' test, and measures protection from the UVA rays of the sun. You will always see a '+' sign next to this, and the greater the number of plusses after the PA, the more protection you get from UVA exposure. You may understand this better as:
PA+ = Some UVA protection.
PA++ = Moderate UVA protection.
PA+++ = High UVA protection.
PA++++ = Extremely High UVA protection.
4) Waterproof / Sweat-proof / Water-resistant: The usage of this term has been heavily debated, and the FDA has consistently tightened and regulated the use of such words on sun protection products. If you see this term, it means that the sun protection product remains effective for only 40 to 80 minutes at maximum when in contact with water or sweat. So any product claiming to deliver protection for longer than that is definitely something you should be cautious of!
5) The Skin Cancer Foundation Seal Of Recommendation: If you would like to go an extra mile when it comes to making sure your product of choice is safe, effective and approved by the world's leading foundation for skin cancer, then look for this seal – which is of 2 types:
– The Daily Use Seal: This seal is given to products that protect you from brief daily exposure such as walking to your car, etc.
– The Active Seal: This is given to products that The Skin Cancer Foundation certifies for usage during prolonged sun exposure such as outdoor activities, etc.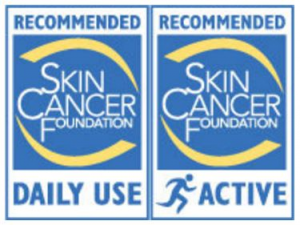 6) Active Ingredients: The active ingredients of your sunscreen will help you to determine the nature of protection, namely:
– Sunscreen / Chemical Protection
– Sunblock / Physical Protection / Mineral Sunscreen
If your product does not already clarify the nature of protection, then reading the active ingredients will give you a better idea. Read below to further understand this key aspect.
SUNSCREEN V/S SUNBLOCK – WHAT'S THE DIFFERENCE?
Sunblock and sunscreen are two different types of sun protection that work in different ways, with the key distinction between them being their active ingredients.
–  Sunscreen filters the sun's ultraviolet (UV) rays by absorbing it like a sponge but preventing it from penetrating into the skin. Also known as chemical sunscreens, the active ingredients are oxybenzone and avobenzone.
A sunscreen is safer on the skin, and sufficient for daily use. They also tend to be lighter in terms of formulation and consistency, but need to be re-applied more often.
–  Sunblock physically reflects the sun's rays away from the skin. Also known as 'mineral sunscreen', they key ingredients are titanium dioxide and zinc oxide. These are responsible for creating a physical barrier that deflects the penetration of radiation into the skin layers. A sunblock is usually heavier and thicker in terms of texture, and is better for outdoor activities in harsh sunlight, or for sunny vacations. It also leaves a white cast after application, and is usually worn by athletes and sportsmen who spend long hours in the sun.
Note: Your choice here should depend on the nature of the sun exposure that you want protection from.
IN SHORT, WHAT SHOULD I PICK?
Now that you have fully understood sun protection terms, you will know how to make the right choice depending on your anticipated levels of sun exposure.
However, Dr. Rashmi Shetty generally suggests that for daily use, you can stick to choosing a sunscreen which has the following properties:
– Broad Spectrum
– SPF 30 or higher
– PA+++ or PA ++++
– Waterproof or sweat-resistant only if you are using it while exercising, swimming, diving, etc.
Bonuses:
– Non-comedogenic
– Alcohol free
– Non-greasy
– Biodegradable
Congratulations! You are now a Dr. Shetty certified sun protection pro!
We hope that you have enjoyed this series, and that this knowledge stays with you for the rest of your sunny days.
Each article is written by Aastha Kottary after detailed discussions and notes from Dr. Shetty
Dr. Rashmi Shetty
Cosmetic Dermatologist,
Mumbai | Hyderabad
Dr. Rashmi Shetty is a celebrity dermatologist, industry pioneer, author , globally invited teaching faculty and a leading expert in aesthetic medicine having over 20 years of experience in aesthetic and clinical dermatology. She is the Founder and chief dermatologist at Ra Skin and Aesthetics in Mumbai and Hyderabad. She is named the best Dermatologist by Vogue 2020 and is the first Indian doctor on the International Advisory board of the Anti-Ageing World Congress, FACE London, ICAD Asia, and honorary faculty at UCL .
 For more such tips and information from Dr Rashmi Shetty, follow her on
https://www.instagram.com/ drrashmishettyra/
https://www.quora.com/profile/ Rashmi-Shetty-297
You can also call on 09833055236 to book an appointment
If you have any questions or clarifications after reading this article, please comment.