YOUR DIVING VACAY HAIR AND SKIN CARE 101
It's that time of the year where diving season is back, and all marine enthusiasts are planning their next bunch of dives! While this getaway might leave you feeling rejuvenated, your hair and skin unfortunately take quite the beating, and the beating can often be severe along with long lasting.  Although these cases can be treated, Dr. Rashmi Shetty firmly believes that prevention is better than cure. So for all you divers, she has compiled your cheatsheet, and hopes that you enjoy that much deserved break without a care in the world! But first, let's understand what really happens to us externally when we dive into exploring the aquatic world.
HOW CAN DIVING HARM YOUR SKIN AND HAIR?
During such escapes, your skin is exposed to a multitude of factors that are not part of your ordinary daily life, such as – direct and prolonged exposure to harsh sunlight, salt water, dehydration, phytoplankton injuries, and constant switching between being underwater and being right under the sunshine. With these factors at play, your skin and hair are bound to bear the brunt and react to these stressors. Most people tend to pay attention to their hair and skin once their diving journey begins. But if you truly want to equip yourself for the hit it will have to take, your preparation needs to begin as soon as you decide to make that trip itself!
The more you prepare and strengthen your hair and skin for the sun exposure and marine environment it will face, the lesser the chances of excessive damage to them. So what should you keep in mind beforehand?
1) Supplements is where it all begins:
Preparing yourself from within the body is the crucial first step. Your sun  and inflammation protection can begin with oral supplements in the form of anti-oxidants, anti-inflammatories and hydrants. These help in controlling inflammatory damage and oxidative stress. Think of this as your oral sunscreen! Don't forget to take your hair fortifying supplement as well. Dr. Shetty recommends the following from her supplement and wellness range Solskin – Bright + Defence + Hydrate + Vitamin C + Anagen. This combination will give you that all rounded shield you need, and you're good to go!
2) Prepare your Hair and Skin with Hydration:
Making sure your hair and skin are at their best health in advance is your ultimate bet when it comes to coping with the aftermath of your diving vacation. Making sure your skin is well nourished and lubricated is pivotal, and you can even indulge in the same when it comes to your hair, by oiling it regularly or doing spa treatments to hydrate your locks. If you are suffering from any rashes, eczema, or inflamed skin, it would be wise to meet with your skin doctor before you take your trip. Nurturing your hair and skin to withstand all potential damage should be your focus.
3) Pro-Tip from Dr. Rashmi Shetty:
When it comes to building the skin health, Dr. Shetty suggests the incorporation of one of her favourite skincare ingredients – Ceramides into your routine as they are barrier strengtheners. You can follow that up with your moisturiser and sunscreen to ensure that your protection has already started well in advance.
As someone with porous and frizzy hair herself, she also endorses indulging in hydrating hair spas that have better effects on hair strengthening than oiling the hair.
1) Before Your Dive : Hydrate + Protect
When you are on your way to and fro between the mainland and your diving location is when your skin and hair are heavily compromised due to the sun beating down on you. Before this happens, your prime focus should be on hydrating the skin and your mane to protect it from the penetrative damages.
Skin: You can stick to the previously recommended routine of ceramide and moisturiser, but topped up with more generous amounts of sunscreen.
Hair: Think of your hair as a sponge that has the ability to absorb water. Diving into the aquatic world with dry hair is a sure shot way to make your hair absorb all the salinity that you do not want it to. A better way to manage this is to wet your hair with regular water before you dive in, so that your wet sponge has no capacity to absorb the salinity, thus preventing hair damage! Protecting your hair shaft and filling the keratin gap with plain water is the easiest hack you can get away with.
2) During Your Dive : Beware Of The Marine Plankton
These microscopic invisible marine algae can trigger allergies and reactions on your skin, causing redness and itching. Dr. Shetty speaks from her own personal experience of how it took her two days to realise that the redness on her cheek was because of the fact that the rope had brushed against it. These ropes which divers cling on to for support are heavily laden with phytoplankton that can bite the skin and lead to irritation. In turn, this can lead to post-inflammatory hyperpigmentation and dark marks. So remember to dodge those pesky ropes from directly touching your skin!
Pro-tip: It is advised that you carry a calming lotion like a calamine during such vacations in the eventuality that you can end up with inflamed skin that needs calming.
3) After Your Dive : Re-Hydrate and Re-Protect
Once you finish your beautiful dip into the underwater world, your excitement and the surreal-ness of this experience will make you forget to generously slather on your sunscreen again or to think about your hair, but those are the key moments! So remember –
Skin: Your protective creams will wear off underwater, so do remember to re-protect your skin once you are out of it. Re-applying your moisturiser and sunscreen is a non-negotiable. Trying to stay as covered as possible even once your diving suit is off is the most ideal way to continue being shielded from the rays of the sun.
Hair: Rinse your hair with normal water as soon as you are out, so that the salt doesn't stay too long on the surface of your hair. The more you let the salinity linger around, the more brittle it will make your strands of hair.
Body: HYDRATE, HYDRATE, HYDRATE. As overstated as that might sound, it is as necessary as all the external TLC that you are willing to do. If you are not hydrated from within, then no amount of outer care will actually help your cause. So drink your water whenever possible.
4) At Night : Calm and Re-store
While you might return to your room and notice the tan on your face and body, it is most important for you to work on restoration of the skin at night, after the damages of the day. This could be as simple as using a more intense moisturiser than your daytime one. However, Dr. Rashmi Shetty strictly warns – "THIS IS NOT THE TIME TO THINK OF YOUR DE-TAN!" This is where a lot of people go wrong by jumping to using such products that have chemicals, acids, and skin lightening agents that can worsen your already sensitised skin. So take it easy and make sure you pay attention only to calming any inflammation, skin recovery, and complete hydration.
Once you are back to reality, being patient with your skin is your prime lookout. For the first two weeks, the skin and hair should just recover and replenish itself from the harshness of the sunshine and saline water that it has undergone. So the focus should be on following the same steps that you did as your pre-dive routine. Do not be in rush to work on your tan removal or any drastic treatments. Only once your skin feels genuinely nourished, restored, and healthy is when you can consider working on de-tanning it.
And that is how simple it is. With these mindful steps, you can rest assured that your explorations will leave you with only pleasant memories!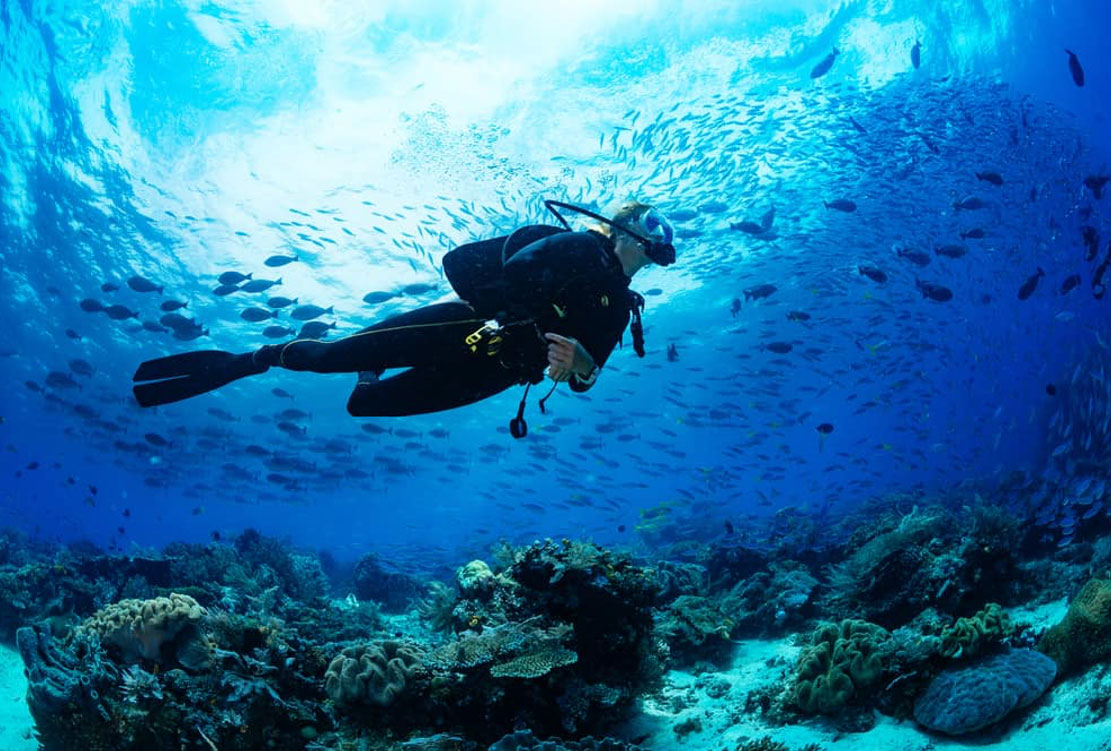 If you have any specific hair or skin concerns that you would like to address before you book those tickets, do reach out to us at +91 9833055678 to set up your consultation
Each article is written by Aastha Kottary after detailed discussions and notes from Dr. Shetty
Dr. Rashmi Shetty
Cosmetic Dermatologist,
Mumbai | Hyderabad
Dr. Rashmi Shetty is a celebrity dermatologist, industry pioneer, author , globally invited teaching faculty and a leading expert in aesthetic medicine having over 20 years of experience in aesthetic and clinical dermatology. She is the Founder and chief dermatologist at Ra Skin and Aesthetics in Mumbai and Hyderabad. She is named the best Dermatologist by Vogue 2020 and is the first Indian doctor on the International Advisory board of the Anti-Ageing World Congress, FACE London, ICAD Asia, and honorary faculty at UCL .
 For more such tips and information from Dr Rashmi Shetty, follow her on
https://www.instagram.com/ drrashmishettyra/
https://www.quora.com/profile/ Rashmi-Shetty-297
You can also call on 09833055236 to book an appointment
If you have any questions or clarifications after reading this article, please comment.