Summer Intense Sun: How to Protect Yourself?
Did you know that unprotected sun exposure is the prime cause of premature skin aging?
Unfortunately, many people still don't fully understand the sun's harmful effects and are not taking adequate measures to prevent damage.
This article provides you a deeper perception of how sun damage affects the skin and the significant ways you can reduce the risks.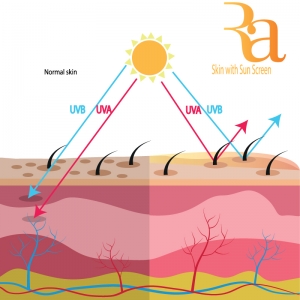 How do UV rays damage skin?
Two primary types of UV rays that cause sun damage are UVA and UVB.
You must remember, we must not try to protect ourselves from only the visible light but the ultraviolet rays of the sun like UVA, B, and C. Fortunately, we need not worry about the UVC as it hardly reaches us. It is UVA and UVB that you have to be vigilant of. UVA passes through everything, including glass windows.
UVA is longer-wave sun rays that trigger the skin in the wrong way to get tanned. These rays do not cause sunburn. However, UVA rays tend to go deeper into the skin. UVA harms epidermal cells: what's more, it also damages collagen and elastin. Blood vessels can also be injured.
The extent of UVA exposure is not significantly reduced when the sun's rays pass through your windows.
The sunburn is caused by UVB or shorter-wave rays that also stimulate premature aging damage. UVB radiation penetrates the outer layer of the skin and damages DNA. This ultimately may result in the signs of photoaging. Over time, skin cancers may develop.
UVB is found to be less penetrating. Fortunately, most of it is filtered out by the atmosphere or windows. Radiation is highest in the middle of the day when the sun is most direct, but UVA radiation remains the same throughout the day.
The American Academy of Dermatology reckons that your risk of developing skin cancer increases if you have spent many years out in the sun without adequate protection. However, you must remember that it's never too late to develop safe and healthy sun protection habits.
According to the World Health Organization, UV levels are highest under cloudless skies. However, thin clouds have a minimum effect and may even increase UV levels because of scattering!
The magnitude of UV rays varies primarily with the height of the sun in the sky. The more harmful UVB radiation is received between 10 a.m. and 4 p.m.
UVB radiations are found to be elevated during the summer months.
The sun's rays take the most direct path to Earth during this period. During early morning or late afternoon, the sun's rays pass at a greater angle through the Earth's atmosphere, due to which UV radiation is absorbed.
Prevention is the best way to save your skin.It is essential to apply sunscreen rated SPF 30 or greater every day.
Why do you tan, even after applying sunscreen, especially during the sweaty, sticky summer season?
What could be the possible reasons? Have you thought of this?
Usually, sunscreens are pretty thick. You might be wiping it off because of the irritating sweat.
What Can You Do?
Try switching to a sunscreen that is non-sticky.
You might not come back in 3-4 hours when you go out, so not reapplying the sunscreen leaves your skin without protection.
What Can You Do?
Carry your sunscreen with you and re-apply when you are out.
You don't apply sunscreen as thick a layer it should be ideally used.
What Can You Do?
 Practice layering of your skincare products. Apply your sunscreen directly onto skin, underneath your makeup.
Don't be deceived by a hazy day.
Did you know that if you are spending time in open shade, you still are in danger of being exposed to high UV radiation?
What to look for in a bottle of sunscreen
Knowing what to look for in a sunscreen bottle is crucial since the market is cluttered with sunscreen products.
You should focus on SPF (Sun Protection Factor) and TPI (Tan Protection Index). A sunscreen with SPF 20 to 50 is more than enough to get almost 98% protection.
One SPF gives you approximately 10 minutes of protection under the sun. Remember to reapply your sunscreen twice or thrice during the daytime.
SPF or the sun protection factor in sunscreens indicates only that you will develop lesser pigmentation. But the actual anti-aging defense happens from UVA protection which you can see from the + sign on the sunscreen bottle. Look for a minimum of 3-4 plus characters.
Also, check for photostability, which indicates how long the ingredients remain active under harsh sunlight.
Dr. Rashmi Shetty tells us to look out for IR protection on our sunscreen bottle. This protects us against the harmful infrared rays that burn our skin, cause redness and inflammation.
 There are three types of sunscreens
Physical sunscreen
Chemical sunscreen
Fusion sunscreen
The physical sunscreens are thick and pasty. They deflect the sun's rays but do not get absorbed.
The chemical sunscreens are lighter and are formulated to get absorbed into the sunscreen. But remember that they are not suitable for people with sensitive skin.
The fusion sunscreens are a fusion of both physical and chemical sunscreens.
Choose your sunscreen wisely and know the right amount of sunscreen to be applied at the right time.
Dr. Rashmi Shetty suggests that we carry some wet wipes along during these sweaty summer months and avoid rubbing your skin with your hands or shoulders.
For more tips on the right way to apply your sunscreen lotion, check out this instagram video by Dr. Rashmi Shetty.
View this post on Instagram
Also, be aware that some medications can make your skin more sensitive to the sun.
Did you know that lips can get sun-damaged too? You could protect them with a lip balm with SPF and reapply it regularly.
Beyond the Immediate Effects of Sun Damage
Sun damage has far more harmful long-term repercussions for the skin. Sun damage destroys the skin's ability to maintain the essential components. These components can be antioxidants, fatty acids, ceramides, hyaluronic acid, and vitamins. These skin components are crucial to look young and healthy.
In addition to the danger of causing potentially life-threatening skin diseases, the long-term effects of unprotected sun exposure from UVA and UVB rays include:
Aggravated fine lines and wrinkles.
Blemished and uneven skin tone.
Dry, wrinkled skin.
Dull, congested skin.
Sun can cause damage to DNA, free radical changes, and inflammation. Hence it is not about protecting yourself when you are out in the sun, but also how to undo the damage once you are back home.
Dr. Rashmi Shetty shows us a few ways to diminish the appearance of aging effects caused due to sun exposure.
Use antioxidants in skincare regime
Use light plant-based skin lightening lotion
Hydrate your skin at night
Opt for the mildest peel at your doctor's office that is hydrating
Ra Supplements for Summer
Ra Supplements for Summer
Though sunscreen has its benefits, only applying layers of sunscreen won't be enough. It would help if you had something that safeguards you from inside.
Ra Bright–  A remarkable antioxidant that doubles up as internal sunscreen.
Ra Vitamin C–  Dramatically brightens uneven skin tone brought on by sun exposure.
Ra Defense– Brings down the inflammation and the redness caused by the sun.
Ra Hydrate– If you have dry skin or slightly matured skin, then Ra hydrate will be helpful.
Special Care for You at The Ra Clinic
Treatment at Ra Skin & Aesthetics for sun-damaged skin involves a systematic three-step approach.
Hydration and skin smoothening process
Tan elimination process
Treatment for pigmentation and DNA changes.
Did you know about a unique concoction of Hydrating peels at Ra skin & Aesthetics formulated by Dr. Shetty?
Ra Clinic's Special hydrating peels.
Do you think that peels dry up skin?
Ra Skin & Aesthetics can provide you with hydrating peels followed by exceptionally rejuvenating hydrating signature facials.
Mild lasers such as Q-switched lasers
Q-switched lasers with the right settings are employed at Ra Skin & Aesthetics to help remove the tan and help pore closure.
We are coming up with an informative article regarding everything you need to know about pores and how to eliminate them in our next article. Stay tuned!
Signature oxygen facial
Immensely refreshing oxygen facial in the clinic explicitly designed for the harsh summers gives back what the skin needs to recuperate.
Power Injectables at Ra
Mesotherapy: Hydrating injectables. Experience brighter, smoother, and plumper skin.
Restylane Skin boosters: One of the most innovative techniques to increase the skin's plumpness and hydration.
Profhilo: Profhilo not only hydrates your skin but stimulates your collagen too! It is bio stimulatory in its effect.
Dr. Rashmi Shetty is the only Indian doctor who is part of the Anti-Aging World Congress's International Advisory board for over six years now.
References for this information:
The American Cancer Society, April 2019, publication
Journal of the American Academy of Dermatology, November 2012, pages 1013–1024
Journal of Clinical Oncology, January 2011, pages 257–263
Bestseller book 'Age Erase' authored by Dr. Rashmi Shetty